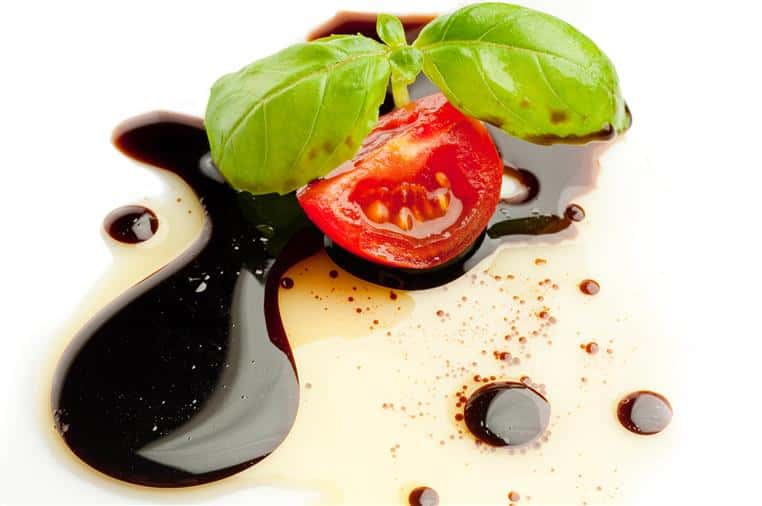 Artisan Vinegars

Dark Balsamic
All of our Dark Balsamics are All natural, No artificial flavors, No thickeners, No added sugar, No Caramel color or dyes, No artificial flavors or added ingredients whatsoever!
Traditional 18 Year Aged
Dark Balsamic



Made with White Trebbiano Grape Must, our Premium Dark Balsamic undergoes the cooking and barrel aging process of Balsamic Vinegar of Modena and is caramelized in copper kettles over an open wood fire. The Grape Must is then aged in a variety of wood barrels which are charred on the interior to add character and additional color during aging process. The result is complex, yet tart, vinegar with a touch of sweetness, subtle dried fruit characteristics, and 6% acidity.
Extremely adaptable, it can be used with any EVOO, as well as with our flavored oils.
Fig Dark Balsamic
Made with natural ingredients, our Aged Fig Balsamic Vinegar from Modena is naturally dense bursting with sweet, complex fig.
Use in marinades, dressings, bread dipping, as a BBQ glaze, or with cheese for a sophisticated cheese plate.
Pairings:
Neapolitan Herb Dark Balsamic

Zesty and savory, our Neapolitan Herb Dark Balsamic has just the right amount of acidity to shine in a multitude of culinary Applications. Made from traditional herbs long used in Neapolitan Cuisine including, Rosemary, Marjoram, Thyme, Garlic and Sage.
It will boost your next salad, marinade or BBQ to the next level.
Pairings:
Raspberry Dark Balsamic

This thick, rich, perfectly balanced Balsamic Vinegar dazzles with the natural flavor of fresh, ripe raspberries.
Both sweet and tart, it's perfect tossed with mixed salad greens and a little feta cheese or toasted nuts. Also enjoy as a marinade or glaze for Pork or Chicken.
Pairings:
Blueberry Dark Balsamic

Our Luscious Blueberry Dark Balsamic Vinegar is just as amazing over garden salad as it is over fruit salad.
Pairings:
Arbequina EVOO

Blood Orange Olive Oil

Lemon Olive Oil

Basil Olive Oil
Strawberry Dark Balsamic

Both sour and tart, our Strawberry Balsamic Vinegar is the very embodiment of ripe juicy Strawberry and rich smooth Aged Balsamic.
Use in marinades, dressings, with spinach salad, on cheese plates, to glaze Poultry or Meat, over thick yogurt or premium Vanilla Ice Cream.
Pairings:
Espresso Dark Balsamic

This Aged Balsamic Vinegar is amazingly complex, with layers of authentic espresso and dark roasted coffee extract.
It makes a fantastic glaze or BBQ base for Pork, Beef, or Chicken. Add a shot to an "affogato float" which calls for a tall mug of vanilla gelato scoops cover with coffee.
Pairing: